Press Archives
Richard Herring Press
RECLAIMING THE COCK
Richard Joyce
speaks to Talking Cock author Richard Herring about, well, cock...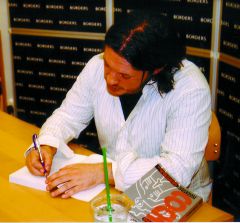 Richard Herring would like to make it clear that he is not obsessed with cocks. His argument, cogently presented in the introduction to his new book Talking Cock, is intended to remove any seeds of doubt: "I know that I have written a book called Talking Cock, which takes cocks as its principal subject, and within which I clearly display my vast and detailed knowledge of cocks, cock history, cock anatomy and other cock-related issues... but I am not obsessed with cocks." For the few cynics who remain unconvinced, he eloquently reiterates that "the idea of me having some kind of manhood mania, fuckstick fixation or penile preoccupation is palpable poppycock."
The recently published Talking Cock sees Herring's hugely successful 2002 Edinburgh show, widely viewed as the male riposte to The Vagina Monologues, translated into written prose, with all its hilarious and insightful content fully intact and frequently expanded upon.
The show itself was a witty presentation of his discoveries rather than a straightforward gag-fest. "I don't really see myself as a stand-up comedian; I'm like a theatrical comedian, or something in between," he explains. The product of this is an engaging style and excellent comic delivery which puts him in good stead as an author.
The original success of the Edinburgh show has snowballed: it has been translated into 14 European languages. Its creator was wise to its potential from the start, admitting: "I almost resisted doing it because it felt like quite a commercial idea, but then I thought - well, is it such a bad thing if it is commercial, as long as it's still good?"
When he tentatively began to test the water for the project through an online questionnaire based upon man and his manhood, he was overwhelmed by the response. "The minute it was on the internet I got people e-mailing me from all these other countries saying 'Can you put the show on in our country?' and I hadn't even written the show yet, so that got me thinking 'This is looking quite good.'"
Once off the ground, the creative process was relatively smooth, as Herring recalls: "It came together quicker than most of my Edinburgh shows, and I worked on it harder." Eventually it got to the stage where it took even its author by surprise; whilst "really glad" that he got to write a book on it, he admits, "I didn't really anticipate that."
Incidentally, this is not the first time that Richard Herring's career has been to some extent dick-dependent: whilst cruising through a history degree at St. Catz, he integrated himself into the Oxford comedy scene, making his debut at the Oxford Revue Workshop with his very own high-brow composition "My Penis Can Sing", the reminder of which yields the observation that "it's all come full circle."
It was here that he teamed up with Stewart Lee ("if I'd had known that at the time I'd have avoided him") and had years of double act success. BBC2 became home to their Fist of Fun, which has garnered an almost cultish group of admirers, whilst their second TV incarnation on This Morning With Richard Not Judy was equally brilliant, leaving fans to "consider the Lilly".
Neither show, however, made it to a third series, and Herring happily confesses to a degree of indifference towards television that perhaps contributed to a lack of enduring success. "We never played the game, me and Stew, and I think that's partly why we're not still on TV; we never went to those parties and we didn't network. We preferred to do our own thing, and we were quite arrogant. I'm glad we did it that way."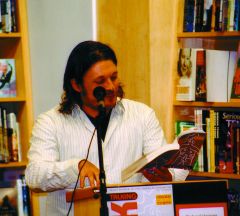 His self-proclaimed arrogance is perhaps a bit harsh; what comes across from talking to him is that he possesses a strong and narrow focus on his own work, something he has a lot of belief in and takes great pride in. Herring proves extremely amiable when invited to a college bar by students who attended his book reading, and clearly appreciates their admiration, even when they get carried away and begin quoting some old gems from Fist of Fun.
He recollects his time at Oxford with little self-reverence, recalling how he'd get bullied because "all the rugby players would be in the bar and I'd walk in wearing a big bow tie or a kipper tie or a funny jacket, and they'd pick on me. But I deserved it really. I was an idiot."
Despite showing little interest in the great majority of his peers, admitting "I just concentrate on doing my own thing really. I don't go to see much comedy," Herring is in no way smug or complacent, noting that "there's so many good people out there I feel lucky to be making a living out of it."
His inward focus stems from a strong sense of dedication and a genuine enthusiasm for his work, and when he gets talking about those whose work he is more familiar with he is quick to praise. He happily talks at length about Stewart Lee's Jerry Springer The Opera, and still speaks very highly of old colleagues such as Chris Morris, Steve Coogan and Armando Iannucci.
A hard work ethic and an unerring focus has made Richard Herring's Talking Cock a remarkable success, and he is full of plans to ensure that this success manifests itself in whatever he embarks upon once his genital journey reaches its conclusion, its legacy forever immortalised in print.
He doesn't rule out a return to TV, and speaks of "loads and loads of stuff that I've written that hopefully one day will get made," but concedes that unfortunately it's not in his hands. The chances of him rekindling his partnership with Stewart Lee appear less likely, at least in the immediate future.
"It would have to be something different; I don't think we could do the Lee and Herring stuff again. Partly because although we haven't fallen out, we're both off in our own directions, and also because I'm 36, I'll be 40 by the time I'm on TV again, and doing silly sketches seems a bit inappropriate."
For now at least, Richard Herring is gleefully Talking Cock, and if you want to be amazed, thrilled, educated and enlightened by his entertaining discoveries, it's about time you started reading cock.
By Richard Joyce with photos by Matt Becker