Radio Work
Lee & Herring Radio One Music Shows

No one would believe it now, but Radio One used to be quite good. In 1994 Chris Morris was given a six month residency, Armando Iannucci was given his own show, and Lee & Herring launched the first of what would become three series of informal chat & larking about.
During their tenure of the airwaves (which would run into 1995), Lee & Herring embarked upon a search to find the nation's favourite chew bar , conducted an anti-drug campaign, launched an illegal lottery, tried to con ice cream companies out of their products & much much more...

CLICK HERE for episode guides & downloads of all three series.
Lee & Herring's Fist Of Fun

The 1994 Radio One Show that launched Lee & Herring's career into the mainstream.
"Fist Of Fun" would spawn two TV series, a book, tour & CD release.
Oh, this site is named after it too....
In this six part series, you can hear such delights as Professor Don King's assessment of Jamiroquai's suggested tax system, Geoffrey from Rainbow tells us the secrets of the UK's first fly-on-the-wall documentary, and Dale Winton cures Rich of "The Curse Of Supermarket Sweep".

CLICK HERE for episode guides & downloads.
Lionel Nimrod's Inexplicable World

Enlisting the talents of Tom Baker (as Lionel Nimrod) and Armando Iannucci & Rebecca Front, Lee & Herring launched their double act onto British radio under the format of a "fact-finding" show that would explain the inexplicable.
The groundings of the Fist Of Fun era double act were created on this show.

CLICK HERE for episode guides & downloads of both series.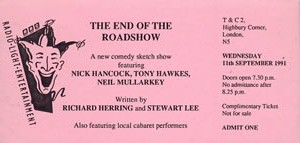 Broadcast in early 1992, The End Of The Roadshow was a short run of programmes recorded live at different British university venues.
The series was parodically set up as a parallel to the Radio 1 Roadshow, aiming to convert the student masses to the glories of Radio 4 (with appropriately altered jingles: "Across the UK: BBC Radio… four… FM!"
The contents were billed as consisting of "a shoddy competition, off-the-cuff repartee with the audience, a look at the problems of being young, and facts about the town we're in".
The hosts were Tony Hawkes, Neil Mullarkey and Nick Hancock, with Rebecca Front (or Regina Freedman in the first programme) in the role of correspondent 'Ann Person'.

CLICK HERE for episode guides & downloads all four shows.

On the Hour is BBC Radio 4's most important news programme. Presented by Christopher Morris, On the Hour covers all of the important stories such as, "Glass-faced man too disgusting for trial!", "International string measurements agreed!" and "More oxygen needed says France!"
Supporting Morris is a range of fearless correspondents, including vapid US reporter Barbara Wintergreen; environmental reporter Rosy May; religious commentator Monsignor Treeb-Lopez, the terribly incompetent Peter O'Hanraha-Hanrahan; Radio 1 DJ Wayne Carr; and the monstrous face of sport, Alan Partridge.
Read more & buy the shows on CD at
OnTheHour.info
.
That Was Then, This Is Now

Richard Herring's semi-topical radio show with it's enduring mission to "make history sexy".
What happened in this week throughout history? And what does that tell us about where we are now?
Using a blend of stand up, sketches, meticulous research and made up rubbish to give us the answers, Rich finds out with the help of Emma Kennedy, Dan Tetsell and Danny Robins and Christian Reilly.
CLICK HERE for episode guides & downloads of all three series.

Richard Herring makes no pretence that his theories on working life and the bad habits that it can encourage are filtered entirely through his own experience.
The five subjects that he covers in this series are procrastination, lateness, laziness, perfectionism and, today's opener, workaholism. He suffers from all of them himself, even though laziness and perfectionism are odd bedfellows.
It's fortunate that, as a comedian and writer, he's his own boss: nepotism runs riot in his office.
What lifts this above a quirky look at working life and into the league of enthralling documentary is the way Herring's moderately paced quips are suddenly jacked up a gear by his contributors - Oliver James, for instance, who after this may be held responsible for an uprising of angry British workers...
CLICK HERE for episode guides & downloads.
Richard Herring's Objective

Richard Herring's Objective pokes and prods a variety controversial objects and see if the controversy falls out.
Through vox pops, interviews and stand up comedy Richard examines the objects' history, meaning and significance and challenges our assumed logic and stereotypes.
Can we reclaim these objects away from their unfortunate associations?
In series one the comedian investigated 'The Hitler Moustache', 'The Hoodie' and 'The St. George's Flag' and in the second series he trained his beady eye on 'The Golliwog', 'The Wheelchair', 'Page 3' and 'The Old School Tie'.
CLICK HERE for episode guides & downloads of both series.