Latest News
November 20th 2012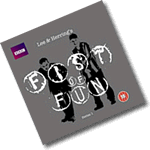 Well, it's been a long while since this site was updated. Sorry about that.

It was supposed to relaunch around the time that
Fist Of Fun S1
was launched on DVD, but things got in the way & it never happened. Now, to co-incide with the DVD release of
Fist Of Fun Series 2
, it's finally back up.
Amd so, browse through for episode guides, downloads, photo galleries & all sorts of bits & pieces.
Basically the site's the same as it ever was, but with a new look.
As ever, if there's anything you'd like to add, please do
get in touch
...