About Lee and Herring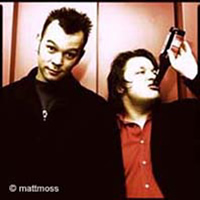 After meeting at Oxford University in 1986, Stewart Lee (from Solihull, West Midlands), and Richard Herring (of Cheddar, Somerset) formed a strong friendship & working partnership.
Both expressed an interest in writing good comedy that "
wasn't just a rip-off of Monty Python
".
Together, they set out to write stuff that they thought was clever, interesting, and - most importantly - funny.
They both wrote & performed in student shows, notably "The Seven Raymonds" which was taken to the Edinburgh Festival and brought them attention from people other than their college peers.
After University, Rich & Stew moved to London and concentrated on writing, beginning to find work on radio, starting at first writing for Radio 4's "
Weekending
".
In subsequent press, neither claim to have enjoyed writing satirical gags for the Weekending team, but it paid the bills...
All the while, they both cut their teeth on the London Stand-Up Circuit.
Rich would eventually give this up, but Stewart was fast becoming a successful stand-up in his own right, winning the
Hackney Empire New Act of The Year
competition in 1990.
Stand-up is something he's always pursued alongside other projects.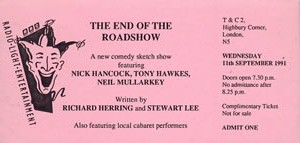 Writing for Weekending, as apparently joyless as it was, was not without it's benefits.
Rich & Stew's contribution had not gone un-noticed, and resulted in them being asked to write for
The End Of The Road Show
.
This was ostensibly a spoof on the "Roadshow" idea that was popular with the controllers at Radio One at the time.
It was presented by Neil Mularkey, Nick Hancock & Tony Hawks, and all the material was provided by Rich & Stew.
Their profile now raised, the
End Of The Road Show
paved the way for them to join the team of
On The Hour
, a spoof news show anchored by maverick DJ & satirist
Chris Morris
notable for the first appearances of Steve Coogan's
Alan Partridge
character, for whom Rich & Stew wrote a lot of early material.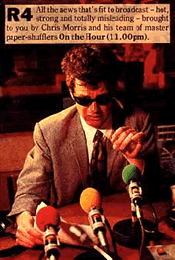 It also marked the start of a trend that the duo would continue throughout the rest of their careers, that of giving their characters names of real people.
One name of note is that of Lionel Cosgrave, a former employer of Herring's who was supposedly a deeply unpleasant man. Rich exacted revenge by naming a number of
On The Hour
characters in his "honour".
The show was much lauded & went on to become television's "The Day Today" after two series and a christmas special on BBC Radio Four. However, the transfer to television would come without Lee & Herring, due to an 'ownership war' within the group about who owned what material.
The topic has become something of a dead horse, and several references to the disagreement can be found within numerous interviews in the
press section
of this site, but the short version is that Lee & Herring contributed a number of ideas to the show that Patrick Marber took credit for. Rich maintains that their contribution amounts to about a 3rd of the
On The Hour
material in total.
Regardless, On The Hour / Day Today producer & editor Armando Iannucci (who had first invited them to join the team after their work on
The End Of The Roadshow
) was impressed with their work enough to invite them to write for & perform in
Lionel Nimrod's Inexplicable World
- a new show for Radio 4. Again, this ran for two series and featured Rich & Stew's first actual
performance
as a double act.

The title character of Lionel Nimrod was brought to life by ex-Dr. Who, Tom Baker, while the show itself was anchored by Rich & Stew. All characters were performed by them, Armando Iannucci & Rebecca Front, another member of the
On The Hour
team.
Lionel Nimrod..
was, a success & resulted in an offer for another radio show. It was with this that the duo would make their names.
Relocating to Radio One, Lee & Herring hit the "mainstream" with
Lee & Herring's Fist Of Fun
"
Fist Of Fun
" was broadcast from a number of different venues across the country, which was initially problematic, but ended up cementing the duo's relationship with someone who would become a long-standing contributor and friend,
Kevin Eldon
.
Kevin & Stewart had met on the stand-up circuit, and this is how he ended up working with Lee & Herring, in Stew's words
"
The BBC used to send us around the country to record radio shows in places like Exeter and Newcastle as a gesture of their commitment to the regions. So I was saying "we couldn't get anyone to come" because they used to pay about £70. So he went "Oh, I'd love to do it!" and he was really good at doing voices and it never occurred to me that he'd want to do it. So that's when we first used him and then we found his ability to speak really quickly, which was a result of him being a Buddhist, because he chants for two hours a day, he chants these mantras. So he can speak really fast which is really useful for these mad characters we were writing. So it went from there.
"

As well as Eldon,
Fist Of Fun
brought to prominence a collaboration with
Peter Baynham
. Baynham had created a character, "Peter", which embodied everything disgusting about single, bedsit-inhabiting men of Balham, South London. Sarah Smith, the show's producer, suggested bringing Baynham's character into the mix, and "Peter" soon became the show's regular "Lifestyle Contributor", giving banal recipes such as "Simple Summer Fries" (frozen oven chips, and a bowl....)
Like
On The Hour
before it,
Fist Of Fun
was a success and soon made the transition to television in early 1995, following the same format as it's namesake radio show, and introducing elements from the previous year's
Lee & Herring Radio Show
as well.
The
Lee & Herring Radio Show
was a rather loosely scripted affair which would ultimately run for three series over 1994/95. It showed a more relaxed side of the duo, with pre-recorded sketches dropped over studio banter & interspersed with the more accessible parts of Stew's record collection.
These outings were clearly just as much improvised as they were scripted, which made for a loose & enjoyable atmosphere.
The shows were peppered with contributions from Kevin Eldon, Peter Baynham, Sally Phillips, Ronni Ancona, Rebecca Front and many others.
Material from these shows has since been culled for all of their TV work - and the overall feel of the shows established a remarkably conversational relationship with their listeners who were invited to write and phone in to contribute ideas to the show over the weeks.
The first TV series of
Fist Of Fun
, for example, debuted "The Gall-Ery" which was the culmination of a plea from Rich & Stew for their radio listeners to send in as much random stuff as they could think of.
Between the radio & television shows, Rich & Stew managed to find time to tour and guest on other people's radio shows (notably
Armando Iannucci's
), and they benefited from the higher profile that their regular appearances in the nation's media had given them, quickly gaining possibly the largest comedy following on the circuit at the time.
Not willing to rest on their laurels, Stew continued solo standup & Rich worked on his plays.
Almost every Edinburgh Festival to this day signals the arrival of new solo material from both parties.
In the mid 90s, alongside the double-act show, Stew would often perform solo standup & Rich would mount successful comedy plays.
After a second series of "
Fist Of Fun
" aired on television in early 1996, relationships between Lee & Herring & the BBC became strained and discussions with BBC television came to an end when producers decided they wanted more Fist Of Fun, but with a change of format that didn't sit comfortably with it's creators.
Eventually, no compromise could be reached & talks fell flat.
The duo made an offer to produce a fourth series of their acclaimed radio shows, but this was declined by Radio One bosses who were trying to restructure the station.
Despite this stance, they did chop up the preceding three series and put together a series of "Best Of..." compilations which not only did the material no justice whatsoever, but was underpinned by a mix of current hits. This bed of top forty mediocrity was contrary to the musical agenda the duo had created in the original shows and didn't work in context against the sketches & studio banter.
Adding insult to injury, they weren't even informed of this compilation by the BBC until it was airing.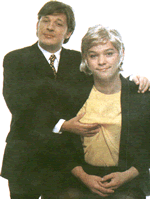 In early 1998, however, Lee & Herring made a return to BBC2 screens in "
This Morning With Richard Not Judy
", a live 45 minute show that would air on Sunday lunchtimes. It was based loosely on a show of the same name that the pair had performed at the Edinburgh Festival in previous years, the origins of which actually go as far back as a Richard Herring solo show from the Festival in 1994.
The show introduced new characters to the Lee & Herring universe, (such as "
The Curious Orange
" & "
The Organ Gang
"), visualized old radio sketches ("
Histor's Eye
"), and extended work from previous shows ("
The Two Very Different Teachers
" sketch from Fist Of Fun returned in a regular slot over the latter half of the first series).
This Morning With Richard Not Judy
(TMWRNJ) managed to successfully combine the ramshackle live atmosphere that Lee & Herring had captured so well in their radio shows with the tightly scripted sketches from Fist Of Fun. However, it wasn't the runaway success it could (should?) have been.
Again, there was an apparent friction with the BBC.
Minimal promotion was done for the show, and the edited repeats (that were aired in the following week) were often knocked around in the schedules.
Another live tour followed on the back of the TV series, taking Lee & Herring back on the road, encompassing the Edinburgh festival & many venues up & down the country and, in a surprise move, the BBC commissioned more material.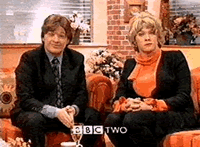 This one-off show took the form of a 20 minute addition to the BBC2 theme night "Monster Night".
Presented by Bill Bailey, the night's programming revolved around monster movies and the like. Lee & Herring's contribution involved them watching "
The World's Nine Scariest Monsters.....With Carol Vorderman
" & passing judgment on it.
A nice little piece of whimsy by Lee & Herring standards, and a strong sketch in it's own right.
A script of it can be found on the
official site
, and you can watch it
here
.
Surprisingly for some, TMWRNJ returned for a second series in 2000, this time for a longer (ten shows) run and - incredibly - received even worse treatment from the Beeb than the first time round.
The run was fragmented by various sporting events taking "precedence".
This frustrated the stars & the audience alike, and resulted in the ten shows being broadcast over the space of thirteen weeks. This time there was no trailering whatsoever from the BBC.
As a result, the show fared badly in ratings, even fans of the duo had no idea it was returning...
Stewart Lee explains;
"
As for TMWRNJ, Mark something was in control of BBC2 when it went out, and really liked it. At the end of TMWRNJ1 he took me, Rich and our manager out to lunch in a posh restaurant in Notting Hill and promised a longer run, proper trails, Friday night repeats etc, and was really keen. Everyone else came out of the meal really happy. I said: I'll believe it when I see it.

As it turned out, TMWRNJ2 wasn't trailed, ran for longer but over 13 weeks interrupted by sport, and the Friday night shows were usually cancelled. Then Jane Root, the new controller, cancelled the programme.
To be fair, Jon Plowman and the bloke who produced The Young Ones, Paul Jackson, did try to get her down to the live recordings to show her that the show was working, but she never came.
By the end of the series they became like skeletons at the feast, supporting us, even though it was clear our death warrant was marked. The closest I've heard to an official explanation, second-hand via the producer Bill Dare to the actor Trevor Lock, was that TMWRNJ2 "didn't perform well in the post-Simpsons slot".

Three of our projected repeats in the post-Simpsons slot were cancelled, the "post-Simpsons slot" often wasn't the "post-Simpsons slot", due to the insensitive way The Simpsons is also treated by schedulers, and our trailers, for some reason, didn't mention the Friday show.
On two different occasions I was planning to do the edit for the Friday (repeated) show on Thursday, and then found out by looking in Time Out that it was on Thursday night.
We were doing a show where even the people in it didn't know when it was going out.
"
As a result of this insensitive treatment, Lee & Herring severed their relationships with the BBC.
At the time, Stewart vowed never to work for them again while these standards were in place, and - instead - continued his work as Harry Hill's script editor over three series and a christmas special of the bald comic's Channel Four show.
He also directed a pilot show of Cluub Zarathrustra for the station which featured the talents of Simon Munnery, Kevin Eldon, Johnny Vegas and others. Cluub Z had initially originated in Edinburgh as a "kind of Dada-ist cabaret show".
This was never screened or commissioned by Channel Four (though it has since
surfaced on youtube
), and a variant on the theme, "
Attention Scum
" fronted by Munnery's League Against Tedium character appeared on BBC2 in early 2001.
Stewart directed this too, and made a
brief cameo appearance
as part of the supporting cast.
Sadly this show was treated with even more contempt than TMWRNJ.
Any potential second series was cancelled before the first was even aired, it was pushed into a late Sunday night slot, and given no advertising at all, despite being nominated for a prestigious Golden Rose of Montreal Award.
This, understandably, added to Lee's anti-BBC stance.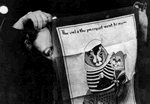 Stew also became a published author in 2001, with the release of his debut novel, "
The Perfect Fool
".
Seven years in the making, and drawing on themes, situations and characters touched on within his solo stand-up work, but it was resolutely not a comedy book & for want of a better term, a "proper" novel.
Meanwhile, he still performed solo stand-up. His "
Pea Green Boat
" - a deconstruction of the Edward Lear poem "The Owl and The Pussycat" - was initially performed as a "work in progress" at Battersea Arts Centre in late 2001, it was revived for the 2002 Edinburgh Festival to great response (and later recorded for Radio 4 and
released by GoFasterStripe as a CD & Limited Edition 10"" vinyl
).
It was, however, to be his last standup work for some time.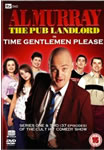 Richard Herring, meanwhile, returned to writing via a collaboration with Al Murray. Rich & Al constructed a sitcom for Sky television called "
Time Gentlemen Please
" based around Murray's successful stand-up character of "The Pub Landlord". Rich cameo'd regularly in the show, which also saw some writing work from Stewart.
During the break between the two series of TGP, Rich managed to find the time to construct & perform a new one-man stand-up play, the successful "
Christ On A Bike
", based on the rather thin premise that Rich was the same age as Jesus was when he died.
Within an hour and a half, Richard deconstructed not just his own flimsy structure of the show, but also the bible, and some of the underpinning importance of the Christian religion.
Rich regarded the show so fondly that he would later resurrect it in 2010 as "
Christ On A Bike: The Second Coming
". A DVD was filmed, which you can
get hold of here
.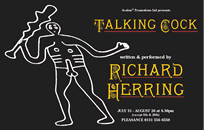 He returned to the Edinburgh Festival in 2002 with a new show, "
Talking Cock
" - billed as a male answer to "The Vagina Monologues".
"
Talking Cock
" examined attitudes towards the penis, and received great critical acclaim during it's Edinburgh run & beyond.
Rich went on to tour it extensively, write a companion book & have the show translated & performed around the world.
Despite the informal dissolution of the double act by this point, Rich & Stew paired up again in early 2002, although not for their own work.
Instead, they took part in "
Real Time
", an online Dr. Who adventure.
Rich appears as "Taylor Renchard" & Stew plays "Ryan Carey". Colin Baker performed as the 6th Doctor.
The recordings were initially released over the internet and are now available to
buy commercially
.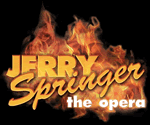 This takes us up to the beginning of 2003, when Stewart resurrected his "
Pea Green Boat
" for a stint at the Battersea Arts Centre before concentrating his efforts on the acclaimed "
Jerry Springer : The Opera
".
This took to the stage at the National Theatre in London in April 2003 & garnered massive critical acclaim, earning it a west end run at the Cambridge Theatre.
Stew directed & co-wrote the show in collaboration with TMWRNJ keyboardist Richard Thomas and described it at the time as "
not at all shit
", an opinion that was confirmed by the national press' response, and the sea of awards it went on to collect. You can see some reviews on the
press page
.
Throughout 2003, Stew presented a radio show every third Sunday on London's Resonance 104.4FM.
The shows were broadcast live over
www.resonancefm.com
& you can download some of them
here
.
He also began work on his second novel, the follow up to "
The Perfect Fool
". To date, it has not been published.
Meanwhile Rich spent much of 2003 touring the country (and beyond....) with his "
Talking Cock
".
A book of the same title was released & he continued regularly updating his own website on the "Warming Up" page, the blog he started in late 2002. He has maintained it daily since, and it is often entertaining reading, as well as the best source of news for all things Herring.
Rich and Stew were re-united on radio again briefly in late 2003 when they both appeared on Radio 4's "
Round Table
" show (a copy of which can be found on the
downloads page
) and when Rich guested on
Stew's Resonance FM show
to publicise Talking Cock.
Towards the end of the year, Rich began work on his 2004 Edinburgh show, via a series of unusual tasks & Stew started making sporadic stand-up appearances as he worked his way back onto the circuit.

Rich took part in a pilot for a new radio show with
Emma Kennedy
(which would become Radio 4's "
That Was Then, This Is Now
") and ran the London Marathon in early 2004. This - along with a selection of other self-imposed challenges - would form the basis of that year's Edinburgh show, "
The 12 Tasks Of Hercules Terrace
".
Stew also returned to Edinburgh - and to standup. His first show since Pea Green Boat would be "
Standup Comedian
".
This was toured for the rest of the year & released on DVD in 2005.
The "
That Was Then...
" pilot went to series for Rich in late 2004 & saw him work with Emma Kennedy, Dan Tetsell, Danny Robins & Christian Riley, whilst Stew regrouped with Richard Thomas & headed to Germany to work on their next project,
Stand-Up
, an opera about British stand-up performed in German.
January 2005 - whilst Stew & Richard Thomas were in Germany - saw the broadcast of "
Jerry Springer: The Opera
" on BBC2, an event that proved problematic to say the least.
Several right-wing Christians took offence at the content, declaring it blasphemous (it wasn't). Indeed, many of the protestors had not watched the show.

The significant backlash from the religious protestations derailed the intended tour of the show, and clearly left it's mark on Stew, whose response was a vitriolic second half to that year's Edinburgh show, "
90s' Comedian
".
Rich, meanwhile, was busy regaining his standup feet, and working up material for his first fully standup show at the Edinburgh Fringe, "
Someone Likes Yoghurt
".
He also fronted a poker based chat show,
Heads Up With Richard Herring
on cable TV & recorded a pilot for a new radio quiz show -
Banter
, hosted by Andrew Collins.
Banter went to series in 2006 & Rich appears in every episode.
As 2005 closed, Stew's first standup DVD, "
Standup Comedian
" was released - a performance of the 2004 show recorded at Glasgow's Stand.
The complaint-generating film of "
Jerry Springer: The Opera
" also hit the shelves, although Woolworths & Sainsburys refused to stock it following the complaints from the Christian right.
Standup gigs continued through 2006 for both halves of the former double act as they toured their respective material & made appearances on the circuit.
Having learned that 2Entertain had refused their option on a follow up to Stew's "
Stand Up Comedian
" DVD, a group of enthusiastic Welsh film makers approached him about filming "
90s Comedian
" with them at their local arts centre.
The recording that was produced not only provided Stew with a commercial outlet for the show, but also gave birth to "
GoFasterStripe
", who would go on to evolve into a small cottage industry in their own right, and have subsequently filmed many other comedy shows that would otherwise never get a commercial release.
In 2006 Stewart directed an Edinburgh Festival production of Eric Bogosian's "
Talk Radio
" & recorded a couple of documentaries.
For Channel 5, "
Don't Get Me Started
" focused on the reaction to
Jerry Springer The Opera
, and opinions on blasphemy & matters of religious taste in general and for Radio 4, "
White Face, Dark Heart
" took a look at the darker side of clowning and, in particular, the Pueblo Clowns of New Mexico.
Both these documentaries are available on
Stew's Official Site
.
Richard returned to Edinburgh with more standup; the impressive "
Menage A Un
", worked on a second series of "
That Was Then...
" and put the finishing touches to "
You Can Choose Your Friends
" - a feature length comedy drama for ITV.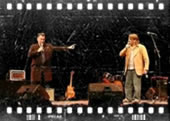 January 2007 saw Stew mount a theatre piece, "
What Would Judas Do?
" in Shepherd's Bush, and in the February organised "
Tedstock
", a fundraising benefit gig for the influential (yet obscure) comedian Ted Chippington.
A stellar line up including Simon Amstell, Josie Long & Simon Munnery was headlined with an appearance from Chippington himself.
There was also the small matter of a one-off performance from Lee & Herring as a double act for the first in about 8 years.
Rich completed work on "
You Can Choose Your Friends
" which was broadcast in June & embarked on a tour of his 2006 Edinburgh Fringe show, "
Menage A Un
", before returning to Edinburgh with "
Oh Fuck, I'm 40
" in the summer of 2007.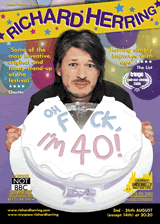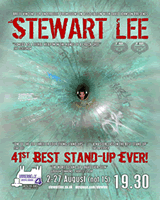 Having been placed 41st in a Channel 4 poll of the best Stand Up Comedians, Stewart was also back in Edinburgh with his new show "
41st Best StandUp Ever!
", as well as presenting "
Johnson & Boswell, Late But Live
" a piece written by Lee & starring Simon Munnery & Miles Jupp as Samuel Johnson & his biographer James Boswell respectively.
This toured the highlands after its Edinburgh run, whilst Stew & Rich toured their respective solo shows.
Towards the end of the year, Rich was back on the radio with a third series of "
That Was Then, This Is Now...
" on Radio 2, whilst Stew piloted a solo BBC2 TV show, provisionally titled, "
Stewart Lee's Comedy Vehicle
".
Following several guest appearances on Andrew Collins' BBC 6 music radio shows, Rich began recording podcasts with him at the start of 2008. Starting as simple conversations into the onboard mic on Richard's computer, the "
Collings & Herrin" podcast
would evolve into something much bigger, over the subsequent three years...

In April 2008, Stew recorded "
41st Best Standup Ever!
" at the Glasgow Stand, and the DVD of the film was released in July.
2008's Edinburgh Festival saw Rich's first 5 star reviews for "
The Headmaster's Son
", whilst Stew performed a selection of work-in-progress material, new & old, in preparation for his forthcoming TV series.
A follow up to
Johnson & Boswell, Late But Live
also came in the form of
Elizabeth & Raleigh, Late But Live
- featuring Miles Jupp & Simon Munnery again.
Like it's predecessor, this toured after it's Edinburgh run.

Towards the end of the year, Stewart began filming for "
Stewart Lee's Comedy Vehicle
" and Lee & Herring were re-united as a double act once again for a 40-minute set at gig curated by Richard Herring at the Lyric Theatre, Hammersmith.
Audience recordings of the show exist and an audio bootleg is available on the
downloads
page.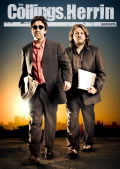 The
Collings & Herrin podcast
grew bigger and bigger in 2009. Following the preceding year's one-off live performance, Rich & Andrew held a five-day stint at the Edinburgh Festival, and transferred to proper radio - deputising for both Jon Richardson & Adam & Joe on BBC 6Music.
Stew's "Comedy Vehicle" debuted in February 2009 to some of the best reviews for a BBC comedy since "The Office" and he followed this up with a new live show, "
If You Prefer A Milder Comedian, Please Ask For One
" at that year's Edinburgh Festival.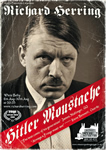 While he enjoyed renewed television exposure, Richard was busy reclaiming Hitler's moustache for Comedy.
Both shows toured the UK extensively and in October Richard started work on a second podcast, a standup & sketch show called "
As It Occurs To Me
" - the premise being that it would record in front of a paying audience (to cover costs) and then be released on the internet for free immediately, with no editing, and presented entirely as live.
To add an experimental layer to proceedings, Rich would write the show in the week before recording in an attempt to generate material as spontaneously as possible.
Not always an easy task.
In January 2010, Stewart competed in - and won - Celebrity Mastermind, whilst the "
If You Prefer A Milder Comedian...
" tour rumbled on.

Rich was also on tour, with "
Hitler Moustache
" and describes 2010 as his busiest year yet.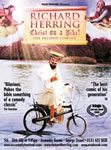 Taking in more
Collings & Herrin
podcasts - and "real" radio work for the duo covering Adam & Joe's absence on 6Music - performing more live podcasts & a mini-tour of bookshops in support of his book, "How Not To Grow Up", ostensibly a diary of a mid-life crisis, mixed with the "
Oh Fuck I'm 40
" show.
Rich would also make his first appearance on "
Have I Got News For You
" and continue to produce a second run of "
As It Occurs To Me
" as well as returning to Edinburgh with a reprisal of his favourite show, "
Christ On A Bike
" (now with the apt sobriquet, 'The Second Coming').
In the Autumn, he would also start a new radio series, "
Richard Herring's Objective
" and several appearances on various other tv & radio shows.
Stewart also had a book to promote. Annotated transcripts of
Standup Comedian
,
90s Comedian
&
41st Best Standup Ever!
were released as "
How I Escaped My Certain Fate (The life & deaths of a standup comedian)
" in August 2010.
The release was celebrated with a giant "
Stewbilee
" gig at the Edinburgh fringe, which was
interrupted midway through by a strangely familiar heckler
.
Also at the fringe, Stew was generating more material for a second TV run under the work-in-progress banner of "
Vegetable Stew
" and
accidentally created a viral campaign
upon the discovery of a marketing ploy by Fosters lager, the new sponsors of the Edinburgh comedy award that was designed to link them with comedy's flavour of the month.
Towards the end of the year, Richard also appeared on
Celebrity Mastermind
, though was beaten by one point by Hilary Kay off of The Antiques Roadshow.
2011 saw the recording & broadcast of the second series of
Stewart Lee's Comedy Vehicle
, and Richard continued to tour the reprised "
Christ On A Bike
" - including a DVD record for
GoFasterStripe
in May.
Rich also recorded the third and final series of
As It Occurs To Me
, and the entire back catalogue - along with extra bits - was
issued via GFS
too.
A (
sadly rather public
) difference of opinion with Andrew Collins would put the Collings & Herrin podcast on hiatus from June and Rich went on to produce his own daily podcast during the Edinburgh Fringe, as "
Richard Herring's Edinburgh Fringe Podcast
" - a live chat show with different guests every day - Rich followed his own
AIOTM
model by inviting a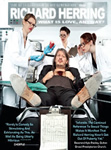 paying audience in order to cover costs before releasing each day's show over the internet.
Meanwhile, he was also debuting a new show, "
What Is Love, Anyway?
" at the Underbelly's Cow Barn while Stew once again returned to The Stand & followed the work-in-progress route, billing that year's show as "
Flickwerk
" (German for "patchwork") in preparation for a new full-length live show, later launched at London's Leicester Square Theatre as "
Carpet Remnant World
."
Rich & Andrew Collins would resolve their differences and a return to the
Collings & Herrin
podcast was made in November 2011, although that would prove to be their last.
After some consideration, Andrew decided he no longer had the enthusiasm for the project, and they called it a day.
Around this time, a second series of
Richard Herring's Objective
launched on Radio 4.
2011 closed with the release, after a 16 year delay, of the first television series of "
Fist Of Fun
".
Bought by Rich & Stew (in partnership with GoFasterStripe) from the BBC at great personal expense, they packed the release so full of extras it had to run to 4 discs.
The release contains commentaries on all episodes, the original, unaired pilot, studio rushes for four of the six shows, the
Live At The Cochrane
video, and piles of DVD-Rom content such as old scripts & press releases, fan club letters and much, much more.
The intention was to start work on the release of the second series as soon as the first series broke even. In actuality, this only took a couple of months, and series 2 would follow in November 2012.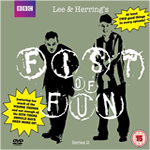 As people were buying up Fist Of Fun, Rich & Stew were touring
Carpet Remnant World
&
What Is Love Anyway?
around the UK & Ireland in 2012. As Edinburgh rolled around once more, Rich revived Talking Cock for a run at the Udderbelly at the 2012 festival, whilst also conducting a month's worth of interview podcasts at The Stand in the afternoons.
Stew finished up the Carpet Remnant World tour by bringing a condensed version of the show to the newly refurbished & Stand-operated Assembly Rooms for the month.
As the year closed, Rich returned to the Leicester Square Theatre for more interview podcasts, and Stew joined Tania Chen & Steve Beresford for more performances of John Cage's "Indeterminacy" around London.
In November 2012, Fist Of Fun series two finally saw the light of day, with a similarly impressive collection of extras to it's predecessor.

Sadly, however, BBC Compliance threw a spanner in the works by demanding cuts to the show.
Over episodes 3,4 & 5, all references to Lady Diana & Morris Mitchener were removed. They also forced the removal of some contentious topics of conversation from the extras.
Rich has speculated that the problems encountered with this release may threaten a similar project to get TMWRNJ out on DVD, as had been hoped (though it looks like that might not be the case, and hopefully series 1 will arrive in 2014).
The release of Stew's "Carpet Remnant World" on DVD that hit the shelves in time for Christmas 2012 saw no such cuts, and 2013 saw yet another Edinburgh Fringe run. Rich brought his latest show, "We're All Going To Die", which he would again go on to tour into 2014 whilst Stew returned to the Work-In-Progress route, with "Much A-Stew About Nothing", a show which followed in the footsteps of Scrambled Egg & Vegetable Stew in its remit to generate six new half hours for a third series of Stewart Lee's Comedy Vehicle. Also working on the Fringe was a well regarded but elusive Canadaian standup, known as Baconface, who had been enlisted as script editor on Lee's 3rd series, though his contribution apparently never made it to screen.
2014 saw that third series of Comedy Vehicle broadcast in March, and Rich took to the internet again for another series of interview podcasts at Leicester Square, and his own "Internet Tv Show", also filmed at Leicester Square, releasing the first episode of "Richard Herring's Meaning of Life" around the same time.
With the Edinburgh Fringe looming once more, Rich has revealed the title of his new show as "The Lord Of The Dance Settee", which fans may spot as a reference to an old Lee & Herring routine, and Stew will be pushing ahead with more work-in-progress shows with notes toward either a new touring show, or the planned fourth series of Comedy Vehicle, this time under the moniker, "A Room With A Stew".
And that's about as up to date as it goes right now!