Downloads
Bad Habits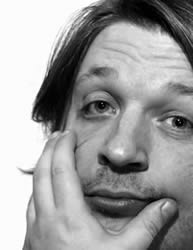 The "
blurb
" from the BBC website describes this series as follows:
"
Comedian and writer Richard Herring explores some of the bad habits and personal failings which directly or indirectly affect all of us in our daily working lives."

And Jane Anderson, Radio Times reviewer, has this to say:
"Richard Herring makes no pretence that his theories on working life and the bad habits that it can encourage are filtered entirely through his own experience.
The five subjects that he covers in this series are procrastination, lateness, laziness, perfectionism and, today's opener, workaholism.
He suffers from all of them himself, even though laziness and perfectionism are odd bedfellows. It's fortunate that, as a comedian and writer, he's his own boss: nepotism runs riot in his office. What lifts this above a quirky look at working life and into the league of enthralling documentary is the way Herring's moderately paced quips are suddenly jacked up a gear by his contributors - Oliver James, for instance, who after this may be held responsible for an uprising of angry British workers..
."
The show broadcast over November & December 2008 in 5 parts on Radio 4, and is now here for download.
Bad Habits
Show 1 - 4th November 2008 - Workaholism
-

Richard explores the rising problem of workaholism. He talks to a City lawyer who works 20 hours a day, visits Pricewaterhouse Coopers to see how they tackle the issue and writer Jon Ronson confesses to being a workaholic.
Show 2 - 11th November 2008 - Laziness
-

Richard explores the problem of laziness. He investigates what Royal Mail did about thousands of staff going off sick each day and visits Google's UK headquarters to find out how having fun can breed success. The programme also features the author of How to Be Idle, Tom Hodgkinson.
Show 3- 26th November 2008 - Lateness
-

Richard explores the problem of time-keeping. He visits a call centre that had problems with punctuality, meets a factory worker from Scotland who blew the whistle on draconian time-management practices and hears from Diana DeLonzor, author of How to Never Be Late Again, who explains why lateness is a pathology that deserves our sympathy.
Show 4 - 2nd December 2008 - Perfectionism
-

Richard examines the impact of perfectionism and goes inside a double Michelin-starred restaurant to see how chef Marcus Wareing strives for food utopia. Douglas Broadley, CEO of global design agency Imagination, talks frankly about how his perfectionism affects the company and an ex-employee gives his perspective on working for a perfectionist boss. Also featuring psychologist and perfectionism expert Cary Cooper.
Show 5 - 9th December 2008 - Procrastination
-

Richard investigates how much time British workers spend on personal emails and what managers do to crack down on it. He also speaks to the writer Charlie Brooker, who blames the internet for his tendency to continually put things off.