Downloads
The End Of The Roadshow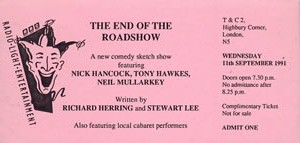 Broadcast in early 1992,
The End Of The Roadshow
was a short run of programmes recorded live at different British university venues.
The series was parodically set up as a parallel to the Radio 1 Roadshow, aiming to convert the student masses to the glories of Radio 4 (with appropriately altered jingles: "
Across the UK: BBC Radio...
four...
FM!
"
The contents were billed as consisting of "a shoddy competition, off-the-cuff repartee with the audience, a look at the problems of being young, and facts about the town we're in".
The hosts were Tony Hawkes, Neil Mullarkey and Nick Hancock, with Rebecca Front (or Regina Freedman in the first programme) in the role of correspondent 'Ann Person'.
This was the first series written entirely by the now highly-successful partnership of Richard Herring and Stewart Lee; rather oddly in retrospect, the
On The Hour
ringmaster Armando Iannucci is credited as the writers' "assistant" on this series.
From
Radio HaHa
The End Of The Roadshow
Show One - Newcastle - Broadcast December 1991 -

-
EPISODE GUIDE
Show Two - Edinburgh - Broadcast December 1991 -

-
EPISODE GUIDE
Show Three - Bristol - Broadcast January 1992 -

-
EPISODE GUIDE
Show Four - Oxford - Broadcast January 1992 -

-
EPISODE GUIDE