Downloads
Kevin Eldon - Poet's Tree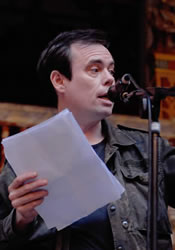 Islington poet Paul Hamilton, played by comic actor Kevin Eldon, who wrote this series with Stewart Lee, presents his guide to the world of poetry.
Bewilderingly as yet unpublished, Hamilton has been a stalwart of the poetry reading scene for nearly 25 years.
He lives in Highgate and runs poetry workshops at the Jackson's Lane Community Centre.
Insightful, courageous, unpredictable, outrageous, heart-warming, uncompromising and always totally original, Hamilton lives and breathes his poetry.
It is his mission, his calling and his destiny.
Broadcast on BBC Radio 4
Wednesday 02 to 23 April 2008 23:00-23:15
Runtime 4 x 14 minutes
Other parts in the series are played by Olivia Colman, Steve Pemberton, Miles Jupp, Tara Flynn and Peter Serafinowicz.
Poet's Tree (2008)
Part 1
-

Paul hears some classic poetry from Derek Harricot and inspires an unusual person to try poetry for the first time.
Part 2
-

Paul visits a young offenders' institute to demonstrate the rehabilitative powers of poetry.
Part 3
-

Paul hears poetry written by a computer, interviews poet Celia Tierny, and meets the English teacher who inspired him to try poetry.
Part 4
-

Paul discusses the poetic merits of pop music and presents a tribute to an unheralded genius.