Downloads
Armando Iannucci's Radio One Music Shows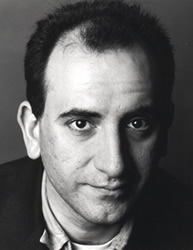 Taking a similar format to Chris Morris & Lee & Herring's radio shows that were broadcast around the same times, Armando Iannucci was flanked throughout these shows by Peter Baynham & David Schneider.
Also making appearances (with varying degrees of regularity) are Richard Herring, Stewart Lee, Rebecca Front & Steve Coogan.
Iannucci's considerable editing skills are given showcases with
The Best Of....Simon Bates' "Our Tune"
while his imagination runs riot over a number of subjects & phone in ideas.
Rich, Stew, Peter & the others contribute characters & seemingly ad-libbed ideas throughout the shows. Broadcast over two series (the first consisting of two half-hour shows, and the second of four hour-long outings) Iannucci's tenure of the airwaves was considerably shorter than either Lee & Herring's or Morris's - but don't overlook these wonderful shows, because - as Armando himself says -
"Anything you ever heard on radio one over the past five years is about to be put through a blender & restitched together the wrong way round."
Armando Iannucci's Radio One Music Shows - Series One - 1993
Series One, Show One - Broadcast 27th March 1993 -

-
EPISODE GUIDE
Series One, Show Two - Broadcast 4th April 1993 -

-
EPISODE GUIDE
Armando Iannucci's Radio One Music Shows - Series Two - 1995
Series 2, Show 1 - Broadcast 9th January 1995 - PART 1

| PART 2

-
EPISODE GUIDE
Series 2, Show 2 - Broadcast 16th January 1995 - PART 1

| PART 2

-
EPISODE GUIDE
Series 2, Show 3 - Broadcast 23rd January 1995 - PART 1

| PART 2

-
EPISODE GUIDE
Series 2, Show 4 - Broadcast 30th January 1995 - PART 1

| PART 2

-
EPISODE GUIDE