Downloads
Lee & Herring's Radio One Music Shows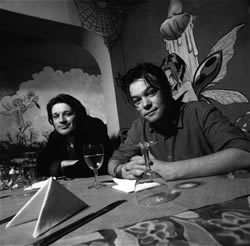 No one would believe it now, but Radio One used to be quite good.
In 1994 Chris Morris was given a six month residency, Armando Iannucci was given his own show (Rich & Stew & Peter Baynham contributed -
see more here
), and Lee & Herring launched the first of what would become three series of informal chat & larking about.
During their tenure of the airwaves (which would run into 1995), Lee & Herring embarked upon a search to find the nation's favourite chew bar , conducted an anti-drug campaign, launched an illegal lottery, and tried to con ice cream companies out of their products.
You can download the shows here, and follow the links below to the episode guides for all three series...