this morning with richard not judy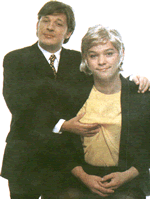 In early 1998, Lee & Herring made a return to BBC2 screens in "This Morning With Richard Not Judy", a live 45 minute show that would air on Sunday lunchtimes. It was based loosely on a show of the same name that the pair had performed at the Edinburgh Festival in previous years, the origins of which actually go as far back as a Richard Herring solo show from the Festival in 1994.
The show introduced new characters to the Lee & Herring universe, (such as "The Curious Orange" & "The Organ Gang"), visualized old radio sketches ("Histor's Eye"), and extended work from previous shows ("The Two Very Different Teachers" sketch from Fist Of Fun returned in a regular slot over the latter half of the 1st series).
This Morning With Richard Not Judy (TMWRNJ) managed to successfully combine the wonderful live atmosphere that Lee & Herring had managed to capture so well in their radio shows with the tightly scripted sketches from Fist Of Fun. However, it wasn't the runaway success it could (should?) have been.
This can be blamed largely on a lack of backing from the BBC. Minimal promotion was done for the show, and the edited repeats (that were aired in the following week) were often knocked around in the schedules.
NOTE : These episode guides are incomplete, and are instead mirroring Richard Herring's Behind The Scenes diary from the
Official Lee & Herring
site instead.